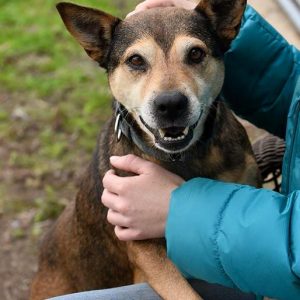 Friends, Daisy is a Taylor Animal Shelter resident who needs our help! She is in need of medical attention to remove a mammary tumor that is currently the size of 1 and ½ softballs – and growing rapidly! This tumor is affecting her quality of life and ability to walk. The staff at the shelter recently had to wrap her chest in a sheet to keep the tumor from dragging the ground and potentially breaking open. The good news is that the tumor is non- malignant, and preliminary diagnostic results indicate that with surgery and proper after-care, Daisy can be good as new, and should recover quite nicely. This will require surgery and after care in a foster home, including post-surgery heart worm treatment.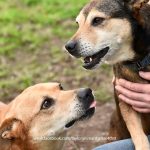 Because Daisy is part of a bonded pair, and her companion also needs heart worm treatment, we are raising funds for Daisy's surgery and heart worm treatment, and Whiskey's heart worm treatment. The estimated veterinary cost for Daisy's surgery is $800. The heart worm treatment will cost $300 per dog or $600 total.
Please come out and join us at the Texas Beer Company this Friday for Pints for Pups, enjoy good beer, great specials, and help us raise donations to cover the costs of Daisy's surgery and after care. Check our EVENTS page for more!
Texas Critter Crusaders is a 501(c)(3) non-profit organization formed to help fulfill the unmet needs of the animals at Taylor's animal shelter. All donations are tax-deductible and go directly toward helping the animals. Visit us at www.texascrittercrusaders.com/donate to donate or learn more about how you can help.