Join us this Friday for Pints for Pups at the Texas Beer Company. Enjoy great specials and help us as we raise funds for one of the Taylor Animal Shelter dogs who is in desperate need of surgery.
Daisy Needs our Help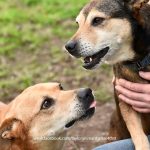 We'll be raising money to help Daisy, one of the dogs at the Taylor Animal shelter get surgery that she desperately needs to remove a very large (1 1/2 softball sized) mammary tumor and provide heart worm treatment and after care. If you can't make it but would like to donate to her cause, you can donate online at http://texascrittercrusaders.com/donate. Any and all donation amounts are greatly appreciated and all help! Hope to see you there! Texas Critter Crusaders is a 501(c)(3) non-profit so your donations are tax deductible.
Specials
Texas Beer Company SPECIALS for this Friday's event:
With every pint purchase of a:
Shiner Bock
DOS EQUIS or
Fireman's #4
The Texas Beer Company will donate $1.00 to the Texas Critter Crusaders benefiting the animals of the Taylor Animal Shelter